A Year on Zoom
A project for local actors and writers
One year on from the first lockdown in March 2020, we created a project for local actors and writers who were missing being creative due to the closure of community arts venues.
The complete film of 'A Year On Zoom' will be available soon, keep an eye on our Facebook, Twitter and YouTube pages.
Artists:
Martin Green (Producer/Director)
Julie McKiernan (Writing Mentor)
Chris Boyle (Facilitator/Editor)

With support from the Local Connections Fund, we brought members of the amateur theatre and writing communities together online in a series of sessions that included opportunities for people to reconnect and make new friends while brushing up their performance and scriptwriting skills.
The idea of charting events throughout the previous twelve months developed into a dynamic project that captured attitudes and experiences throughout the Covid-19 pandemic. 18 pieces of new writing were nurtured by Julie McKiernan and 21 performers were coached by Martin Green in a series of monologues and duologues filmed on Zoom. We also managed to include some one-to-one coaching on comedy technique, led by Chris Boyle.
This powerful record of 12 difficult months in a history of our time has been given the title "A Year On Zoom", reflecting how communication changed for us all. The 18 individual short films will be released daily on social media (Facebook & Twitter) throughout April. You can also visit the Healthy Arts YouTube channel to view them as they become available.
Writers: Elaine Garner, Tony Topping, Marilyn Payne, Janet Critchley, Kate Pashley, Keith Williams, Joan Patrick, Barbara Roberts, Maria Byrne, Jan Porteus, Scott Davenport, Helen Lloyd, Sammy Holden, Erica Dawn, Shaun Fallows, Kelly Cassidy, Sharon Godiff Pulido, Dave Withington.
Actors: Erica Dawn, Emma Appleton, Susan Rigby, Julia Walsh, Lisa Jane Aldred, Peter Hall, Sheila Hinds, John Naughton, Stacey Vernon, Lucy Gregory, Kevin Shirley, Maria Lowe, Martin Green, Colette Davies-Kerwin, John Dudley, Andrew Holt, Hannah Roughton, June Dowd, Shaun Fallows, Megan Price, Loraine Knockton, Linda Davies.
The project was made possible thanks to a grant from DCMS in partnership with the National Lottery Community Fund.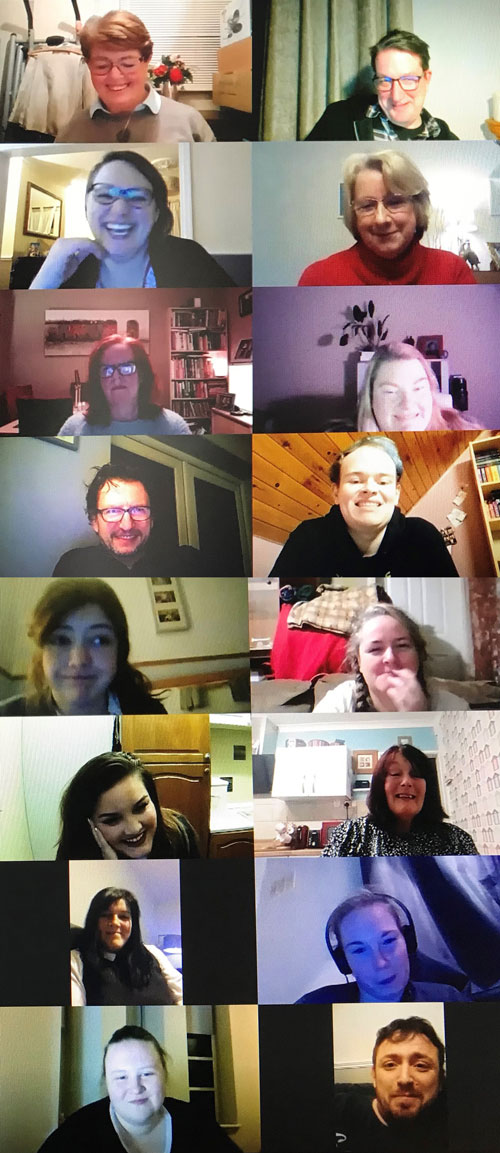 I was delighted to be part of this project as, like most people involved in theatre, I was missing enormously the camaraderie, the discipline of having to learn lines and of portraying a character.
This project is a splendid way of documenting the evolving events and issues surrounding Covid and the dramatic and unforeseen effect on our lives. Documenting it through Zoom highlighted how new ways of working and communicating became a "norm" in the face of the emergency.
I think this has been a really well thought out and produced project.