Healthy Arts are delighted to receive a GM Mental Wellbeing grant. This will enable the project 'Building Memories' to engage our longstanding local history / reminiscence group, MemorabLEIGH. Members of the group range in age from 64 to 93. They used to meet weekly to talk about local history and their lives. For some it was a way to combat loneliness, being single or widowed and having outlived many of their friends. For most of them, lockdown was a major blow as they had to shield – so Healthy Arts created a voluntary newsletter through which they could communicate and stay in touch with each other. This has now reached over 40 issues and has clearly helped them to cope:
'It's been brilliant and interesting throughout. It's been a good support through some lonely moments.'
Ernie
'I very much appreciate how it has kept us in close contact and look forward to it every week.'
Frank
'It's lifted my spirits.'
Teresa
'Helped me to cope with the loneliness'
Joan
However, it is also a reminder of how long they have been unable to physically meet and, with no sign of that being possible for the foreseeable future, they needed a positive project to focus on and engage with and to give them something to look forward to. 'Building Memories' will create a free online immersive audio walk which will capture, preserve and make public the interesting historical facts and social memories of local people about selected buildings and locations in and around Leigh town centre. The commentary will be a verbatim script edited together from facts and memories supplied by members of the group, supported by additional historical research. The audio walk will be illustrated by a downloadable map which will give directions for following each section of the walk, with accompanying images of the relevant buildings and locations. We plan to launch this in June 2021.
This project has been made possible by a GM Mental Wellbeing grant from GMCVO, working in partnership with 10GM, funded by Greater Manchester Health and Social Care Partnership.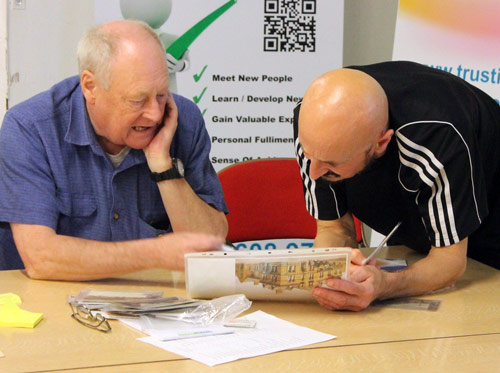 It is wonderful that all these different organisations are coming together. It must be one of the hardest things in the world to educate people in such an entertaining way. It was absolutely wonderful.
I was wondering how do you make a bog sound interesting. The team from Healthy Arts have done that pretty well.
I really enjoyed it, well organised (which I'm sure was a nightmare!) and a really unique event. Loved how so many organisations came together - each giving their own expertise.